Wooden Door Locks in Newport
Your Local Newport Locksmiths open and replace wooden door locks in Newport on a daily basis. We stock an extensive range of Yale type nightlatches, mortice deadlocks and BS 3621 5 lever locks for wooden doors. We can change wooden door locks and upgrade to BS3621 if required to adhere to insurance company requirements. In addition to this we are able to cut additional keys on site for customers that require this.
Wooden door locks normally comprise of either Yale type nightlatch locks, 5 lever mortise locks or BS 3621 deadlocks.
So whatever your requirements Mr Locks Newport can help with your wooden door locks, call us free on 01633 682829. Mobile users can also call on 07976 961473.
---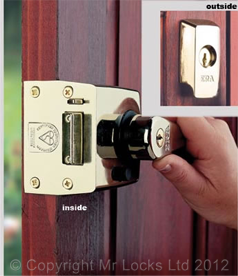 Yale Nightlatch Locks for Wooden Doors
Mr Locks have been replacing Yale type nightlatch locks on wooden doors in Newport for many years. We are often called to open Yale nightlatches when they have broken and customer may be locked out or even locked in to their property in Newport. We can also change a Yale nightlatch on a wooden door when it has been vandalised or due to a burglary attempt damaging the lock. Yale type nightlatch locks are also now available in BS 3621 kitemarked versions and Locksmiths Newport may be called to fit or upgrade to this standard to adhere to insurance company requirements. Mr Locks also cut additional keys for Yale locks in our mobile workshop on site for customers that require this.
---
5 Lever Locks for Wooden Doors
5 lever locks for wooden doors are available as either a deadlock version where a deadbolt is operated by a key, or sashlock version which has a key operated deadbolt and a handle operated latch mechanism in the same lock case. A 5 lever mortise lock is also known as a deadlock or some people refer to it as a chubb lock. This type of lock normally has a long back door type key and once locked cannot be opened from either side of the door without using the key. This Lock is available as either a standard 5 lever version or a higher grade BS 3621 5 Lever version.
---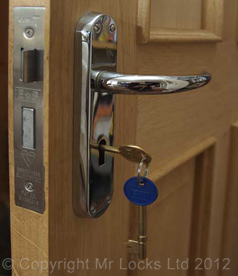 BS 3621 Wooden Door Locks
Historically a BS 3621 Kitemarked lock would always have been a chubb type 5 lever mortise deadlock. However, in recent years several manufacturers have designed nightlatch type locks that can also be deadlocked from both sides of the door and have achieved the same security levels of a mortise deadlock, hence they also been tested and awarded the BS3621 Kitemark which is considered the benchmark by insurance companies.
A BS 3621 Kitemarked lock will have undergone vigorous testing to ensure it meets the required standard of security and protection; typically it will have the following characteristics:
A 20mm protruding lock bolt (BS 3621-2007) tested to withstand extreme force and attack.
Hardened steel roller pins in the lock bolt to protect the lock bolt against cutting attack.
Hardened plate surround to protect the lock against attack by drilling.
Steel box frame receiver tested to resist attack.
The lock should have anti-pick features to help prevent lock picking.
Minimum of 1000 + key differs.
Minimum of 5 levers (for mortise deadlocks)
---
For more information about Wooden Door Locks call Mr Locks your local Newport based Master Locksmiths free on 01633 682829. Mobile users can also call on 07976 961473. We are polite & helpful, we turn up when agreed, and we finish the job properly in one visit.
---