Aluminium Door Locks in Newport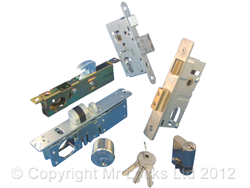 Locksmiths Newport Specialise in working on all types of aluminium door locks in Newport. Our experienced and highly trained engineers can arrive at site within the hour, and specialise in opening broken or jammed Aluminium Door locks without causing damage.
We also stock a huge range of different makes and types of Aluminium door locks on our mobile workshops which allow us to complete 98% of jobs on-site without the need for a return visit, resulting in lower costs to our customers and reduced overheads for ourselves.
We are also able to replace security Locks Cylinders and broken door handles on most Aluminium doors.
Aluminium Door locks are more commonly found on commercial buildings such as shops, factories and business premises, but can also be fitted to people's homes. The most common type of aluminium door lock would be an Adams Rite deadlocking latch or hookbolt lock.
---
Opening Aluminium Door Locks
Aluminium doors often have specialist commercial type lock mechanisms and can be difficult to work on and open when they are broken. Mr Locks have 18 years experience of opening all types of domestic and commercial aluminium door locks. We stock a large selection of these locks on our mobile workshops; therefore we can open and replace locks in one visit.
---
Change Aluminium Door Locks in Newport
Mr Locks have been replacing aluminium door locks in the Newport area for 18 years. We are able to change aluminium door locks on shops, commercial buildings and homes, and stock almost every type of available aluminium door lock on our mobile workshops.
---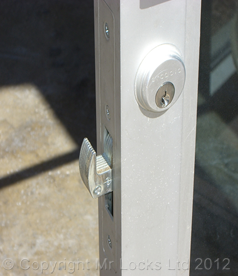 Adams Rite Aluminium Door Locks in Newport
Adams rite are the most common industrial grade aluminium door locks fitted to commercial aluminium doors in shops, factories and commercial buildings. Mr Locks Newport stock all the different types of Adams Rite locks including deadlocking latch lock in all different sizes and the hook lock in all different sizes.
---
Change Lock Cylinder or Barrel on Aluminium Door
Mr Locks can change lock cylinders or Barrels on Aluminium doors in Newport. If you are locked out, have had the misfortune to be burgled, lost your keys or simply need to replace or upgrade your aluminium door lock, then your local Newport locksmith can help. Locksmiths Newport supply aluminium door lock cylinders in a 5 pin or 6 pin version, they can also have hardened pins to protect against drilling and have more recently become available in a British Standard kite marked version.
---
New Handles For Aluminium Doors
Mr Locks Newport stock a vast range of Door handles for Aluminium doors. So if your aluminium door lock handles are broken or have been vandalised we can help.
---
So if you need to open or replace an aluminium door Lock at your home or business, call your local Newport locksmith free on 01633 682829. Mobile users can also call on 07976 961473. Rest assured we won't let you down!
---