Home Security Tips and Advice in Newport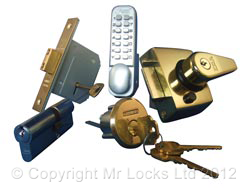 Mr locks Newport Locksmiths have put together some useful tips and advice about home security for people in the Newport area.
Firstly, before even thinking about how secure you home is, householders have to adopt the routine of making sure that all windows and doors are securely locked when they go out and when they go to bed. For many this is obvious, but remarkably 1 in 5 burglaries don't involve any force, it is just intruders taking advantage of poor security, such as an open door or window.
---
Secure Your Home in Newport
Invest and maintain reliable dead locks on doors and key operated window locks. These devices ward off burglary attempts. If you do not have them then contact Mr Locks, we can fit new insurance standard deadlocks to BS3621.
Trim tall landscaping to the height of your windowsills. Hedges provide hiding places for would-be burglars.
Ensure that sliding patio doors are fitted with key operated pushlocks to help prevent them being lifted and opened. Mr Locks supply and fit these devices.
If you must leave a spare key outside, be creative. Burglars routinely check under flowerpots and welcome mats and on window ledges.
If you have a fairly old PVC door, the multipoint locking system may not be as secure as on newer versions. Mr Locks specialise in these types of locking systems and can upgrade you lock to modern high security systems.
Ask a neighbour to collect newspapers and mail when you're away. Most important, make sure your neighbours know when you will leave and when you will return.
Close and lock garage doors. Not only does this protect valuables stored there, it also prevents access to your house if they are joined. If you store particularly valuable items in your garage contact Mr Locks to discuss additional garage door Locks.
Team up with your neighbours and form a neighbourhood watch program. Your local police can help you get started.
Install a security system. Mr Locks Security systems are easy to use and provide you with an added security and freedom while out and at night.
Install door viewers "Spy Glass" with magnifying lenses on your doors. This lets you see who's at your door - without opening it.
---
For further detailed reading on home security go to:
http://www.locksmiths.co.uk/pdf/homeSecurity/Guidelinesforsecurity.pdf
---
Burglary Statistics By Mr Locks Newport Locksmiths

---
If you would like a free security survey from Mr Locks your Local Newport Based Master Locksmiths at your home or business, call Mr Locks free on 0800 083 2882. Mobile users can also call us on 07976 961 473. Rest assured we won't let you down!
---